Many users want to learn about The difference between HGM Micro powder Mill and Raymond mill,now I will tell about you.
HGM Three Ring micro powder mill (also known as micro powder grinding, micro powder grinding mill or Micro powder machine) is named for its three ring, it is a fine and superfine powder processing equipment, mainly suitable for the super fine powder processing of non-explosive brittle materials with medium and low hardness, and Mohs hardness below 9 degree, such as calcite, chalk and other 100 kinds of materials, finished product granularity of fine powder can be adjusted between 150-3000 mesh, the yield is up to 0.4-40 t/h.
Raymond Mill is suitable for processing various non-flammable and non-explosive mineral materials with Moh's hardness less than 9.3 and humidity less than 6%. It is widely used in the fields of metallurgy, construction, chemical industry, mining, highway construction etc,. The granularity of the finished powder size can be adjusted between 50 and 325 mesh (315-45 micron). Examples of processing materials include quartz, feldspar, barite, calcite carbonate, limestone, talc, ceramic, iron ore, carborundum, bauxite, rock phosphate, coal and other materials, about 400 kinds of materials in total.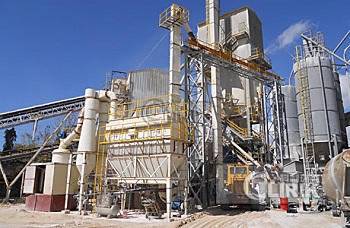 Working principle of HGM Micro Powder Mill
Vibrating feeder evenly send materials into the host and continuously grinding in mill room, after grinding, the powder will flow up by the wind machine, and classified by the classifier, the standard powder will flow through the pipe into the powder collector, the collection is separated by a valve discharge, and this is the final product.
Raymond mill Working principle:
Raymond mill is mainly composed of main unit, analyzer, fan, dischargeing cyclone separator, powder cyclone separator and air duct. Among them, the main unit consists of frame, blow shell, shovel, grinding roller and grinding ring.
The rollers tightly rolled on the ring under the effect of centrifugal force. Shovel sends material between the roller and ring and the material is grinded into powder under the high pressure.Then the fan blows the power up into the analyzer. At this time, the power material met the fineness requirement get through the analyzer and get into the power cyclone separator while the others will be sent back for re-grinding.The whole system is airtight circulation.
If you want to learn more about HGM Micro powder mill and Raymond mill,pls Contact us
Phone: 0086-21-20236178 008613917147829
Email:sales@clirik.com
If you have some questions about our products, please feel free to fill out the form below, and we will contact you within 24 hours.