Project Background Introduction
There are many kinds of mineral resources in Shanxi, China, and they are widely distributed. Among them, non-metallic minerals such as dolomite, calcite and bauxite are rich in resources, with high concentration, deep resource potential and huge development prospects. Our Shanxi customers will build a high-end superfine calcium carbonate production line with an annual output of 150,000 tons, which will become a production line with a certain scale in Shanxi Province after construction and production.
Since its inception, the project has faced many difficult challenges: high requirements for construction standardization, but compact site, difficult construction, tight schedule and heavy tasks. At the beginning of 2022, the project was officially launched, and our company dispatched a professional construction team to the site to ensure safe, efficient and high-quality construction. In just 50 days, a high-standard and cost-effective ultra-fine calcium carbonate production line project was delivered on schedule.
CLIRIK has integrated advanced design concepts into the design of the production line, which has achieved safety, green environmental protection, intelligence, industrialization and quality as a whole, and has also set a new benchmark for the construction of ultra-fine calcium carbonate production lines. Creririck will also continue to pay attention to the operation of the project's production line to escort the creation of economic benefits.
Project overview
Project name: High-end refractory production line
Processing materials: dolomite, calcite
Annual output: 150,000 tons
Finished product fineness: 800 mesh, 1250 mesh
Finished product use: PE, paint, coating, paper making
Optional equipment: HGM125 ultra-fine ring roller mill
Customer site - high-end calcium carbonate grinding powder production line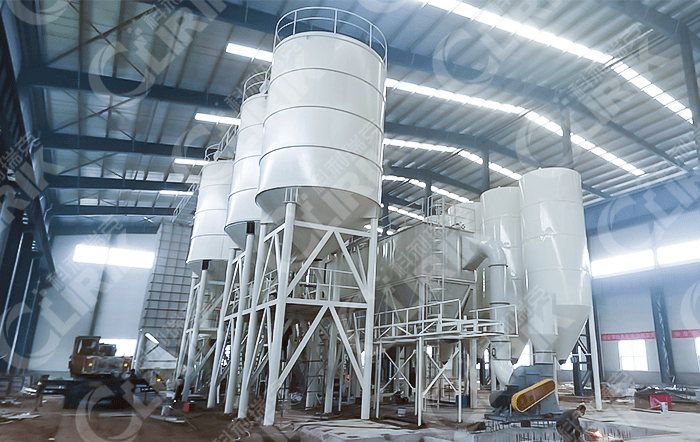 Project Benefits
1. Green and environmental protection
The equipment is sealed as a whole, the system works under negative pressure, and the finished products are directly sent to the large finished product warehouse by the gas conveying equipment, without dust spillage, the production environment is clean, and meets the national environmental protection requirements.
2. It can run continuously for 24 hours
The reducer has circulating oil lubrication and circulating water cooling system to ensure continuous 24-hour operation of the ring roller mill.
3. Security Intelligence
The beautiful arc design is adopted on the appearance, which makes the operation of the equipment simple and safe. And the electrical system adopts centralized intelligent control, and the grinding workshop can be unmanned. The finished fine powder produced is uniform, fine and high in purity, and the sieving rate reaches 99.9%.
4. Full-process service, saving time and worry
Kerryrick provides a "turnkey" service that integrates project design, equipment installation, commissioning and after-sales, allowing customers to save time and effort!