150-3000 mesh Powder Grinding Line is the new type mining equipment for making micro powders, fine powders,which is widely applied in the industries of metallurgy, mining, chemistry, cement, construction, refractory materials, ceramics, and so on.The purpose of the micro powder grinding millis for super-fine grinding materials with hardness less than 9 in Moh's scale and humidity less than 6 percent such as kaolin, limestone, calcite, marble, talcum, barite, gypsum, dolomite, bentonite mud, mica, pyrophyllite, sepiolite, carbon black, diatomite, graphite, alunite, fluorite, potassium feldspar, phosphorite, pigment, up to 200 kinds.
150-3000 mesh Powder Grinding processing Line working flow:

A whole powder grinding production line includes hammer crusher/jaw crusher, bucket elevator, hopper, screw feeder, grinder unit, in-built classifier, collector, pulse filter bag, discharging screw convey & valve, blower, muffler, air compressor, electrical control cabinet, sound-proof house.
For each parts, we will configurate different types and brand according to clients' practical needs.

Raw material was firstly crushed into small particles, and then sent to feeding hopper. With screw feeder, such particles will go into grinder unit and displaced on the upper turn-plate.

Turn-plate is turning around the middle axis, and the grinder connects with reducer box, it is driven by the grinder motor.

The powders will be grinded roller by roller, ring by ring, and fall down on the down turn-plate, and they will go through classifier with the airflow, as the high pressure produces negative wind.

All the powder will be classified by the high speed turning classifier impeller. Qualified one will go into collector and filter bags. Big one will fall down and be grinded again.

Most of the powders will fall into the collector, and few of them will go into bag house with the airflow. With the high pressure, the powder will fall down into screw conveyor and discharged from valve.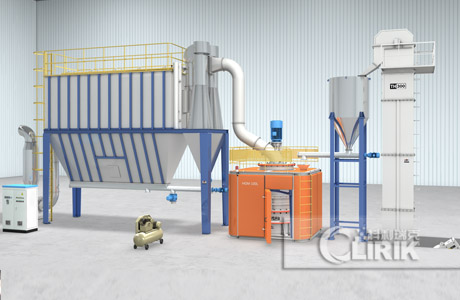 Benefit Of 150-3000 mesh Powder Grinding Line
1.High Efficiency.
Under the same finished final size and the same motor power, the capacity of the machine is twice as much as jet mill, mixing grinder and ball mill, and energy consumption decreased 30%.
2.Long lifecycle of spare parts.
The ring and roller are forged by special material with high utilization,the lifetime can reach 2-5 years for grinding calcite carbonate.
3.High safety and reliability.
As no rolling bearings or screws in grinding cavity, there are no problems caused by bolts shedding or rapid wear of bearings and seal components.
4.High fineness, flexible adjustment.
The final fineness of the grinding materials can be adjusted between 325 meshes and 2500 mesh (47-5 micron), and the product fineness can reach D97≤5μm.
5.Environment-friendly.
Specifications of 150-3000 mesh Powder Grinding Line
Model

HGM80

HGM90

HGM100

HGM125

HGM168L

Ring Diameter(mm)

800

900

1000

1250

1680

Ring Number (PCS)

3

3-4

4

4

4

Roller Number(PCS)

18-21

24-29

28-36

30-44

30-40

Main Shaft Speed (r. p. min)

230-240

200-220

180-200

135-155

120-130

Input Size (mm)

≤10

≤10

≤15

≤15

≤20

Finished Size (um/mesh)

74-5

(200-2500)

74-5

(200-2500)

74-5

(200-2500)

100-6

(150-2000)

100-9

(150-1500)

Capacity (t/h)

0.4-4.5

0.6-6.5

1-9

2-16

3.8-30

Outlet Size L*W*H (m)

13.9*4*6.2

14.7*4.8*7.2

18*4.6*8.6

14*9*10.25

26.3*7.5*11.9